The Village of St. Brieux is located southwest of Melfort on highway #368. Surrounded by the boreal-transition ecoregion, farmland and wilderness dominate the landscape offering residents and visitors a quaint and peaceful country setting. Lenore Lake, located near the Village, hosts a variety of recreational opportunities.
History
The Village of St. Brieux has a rich francophone heritage, as it was settled by about 40 families of Bretons from St-Brieuc, France in 1904. Under the guidance of Father Le Floc'h, they made their way from France, to Halifax, to Prince Albert and finally ended up at the present town site. They left St-Malo, the same port from which Jacques Cartier sailed on his voyages of discovery, on 1 April 1904.
On 23 May they pitched camp at Fr. Paul LeFloc'h's homestead, a spot they christened Plaine. During their settlement, they erected a cross on the shores of Lake Lenore honouring French explorer, Jacque Cartier. By the time they applied for a post office a few months later, they had decided to honour their home community in France by naming both their parish and their post office St. Brieux. It is probable that the switch from c' tox' in the name was a Post Office Department typographical error.
St. Brieux Regional park had for many years been the site of family-oriented recreation. Onsite is the former Roman Catholic Rectory, built circa 1918, with a 1932 addition, and both municipal and Roman Catholic cemeteries which attracts both history buffs and genealogists. There is also an historic monument to the 1904 settlers of the area, a replica of the first church in St. Brieux, and a cross that marks the church's 25th anniversary celebration. The St. Brieux Museum, which houses artifacts from local early settlers, is only a short walk from the park.
Economic Information
The town of St. Brieux is probably most famous for the agricultural manufacturer that is located there. Bourgault Industries is a world-renowned manufacturer of agricultural equipment, from rock pickers to air seeders. Frank Bourgault founded the company in 1973. He started out in a small shop in town and the company has only grown from there.
Attractions of the Village of St. Brieux
Today, the community of St. Brieux is rich in culture with many local artists, craftsman's and musicians. The community is home to many activities such as trade fairs, sports days, golf and hockey tournaments and a Bilingual Christmas Pageant.
Located 1km W of St. Brieux on the shores of Lenore Lake is St. Brieux Regional Park. Established in 1972, the park has 66 electrical camping sites, 12 non-electrical sites, a 9 hole golf course with grass greens, a mini-golf, food service, 4 ball diamonds, a beach, available swimming lessons, picnic area, playground, showers, modern washrooms, fishing, boat launch, nature trails, and cross country skiing.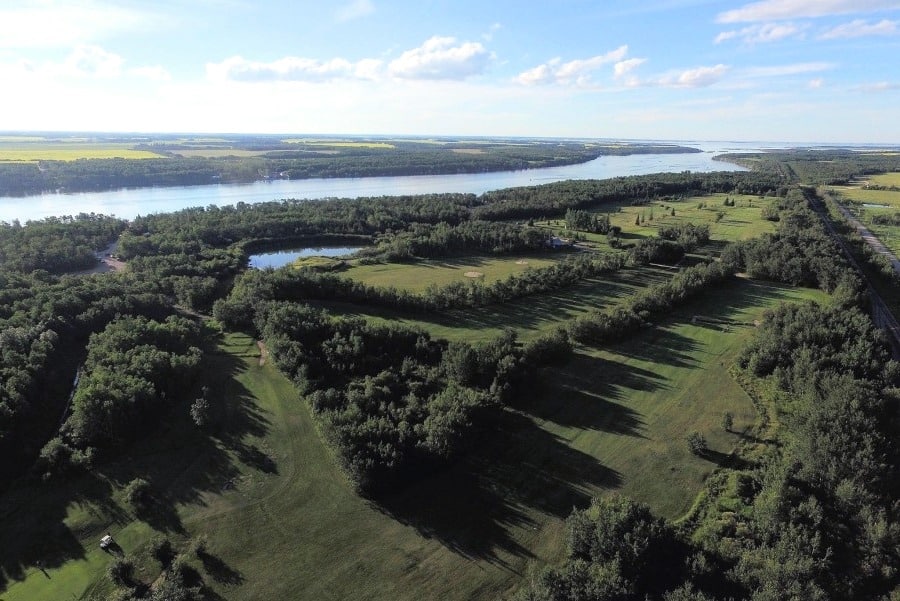 All campsites are naturally leveled and drained, and cut out of the aspen forest for plenty of shade and privacy. All sites have picnic tables, fire pits or pole barbecues, and trash bins. Washroom facilities (which are wheelchair accessible) are modern, with flush toilets and coin-operated hot showers. There is one dining shelter in the picnic area behind the beach, open for general use. Drinking water is available from central taps located in the washrooms. The campsites are attractive and private amid the poplars and birch.
Trails for hiking & biking wind throughout the entire park. The scenery is enjoyable as you are led through dense bush one minute and along the lakeshore the next.
There are several cross-country trails throughout the park. The annual 'Percharama' ice-fishing derby is held in March on St. Brieux Lake.
A par 34, 2700 yard, 9-hole golf course is located within the park. This course features grass greens, a licensed clubhouse and full rental services. It's an excellent course for beginners as well as weekend warriors.
St Brieux Regional Park
St Brieux, Saskatchewan
Canada S0K 3V0
Phone: (306)275-4433
Other Info
The Village of St. Brieux
Box 249
St. Brieux, SK
S0K 3V0
Ph: 306-275-2257
Fx: 306-275-4949